Want to feel our fabrics? You can buy a SWATCH BOOK for $20. Learn more.
Free Shipping in the continental United States.  For Hawaii, Alaska or international orders, please contact us.
We develop, manufacture and distribute materials made from recycled car tires. Our materials can be used in luggage, upholstery, flooring, roofing or wall coverings. Learn more about our product line and our philosophy of creating reusable, sustainable and environmentally responsible products.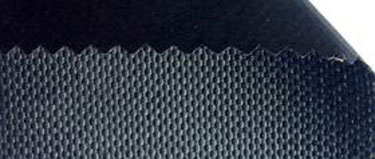 840 füzun® is a custom material (500 yards min) 840 Denier Nylon coated on one side with Vulcana rubbRe™ compound.
Coating the nylon with rubbRe™ prevents it from fraying and contributes to the waterproof properties of the material.